As the world is facing the impact of global warming, every company is trying their level best to reduce their carbon footprint. Going green reflects a good image in your company as it shows customers and major stakeholders your commitment to making a positive impact to this environment. The best way to do so is to follow the three important "R's" – reduce, reuse, and recycle.
By practicing the 3Rs, you can decrease the amount of waste your office produces, which translates into overall savings and cost reductions. Also, as your customers and prospects see your company in a positive light, they are more likely to continue supporting your business as well as your cause to be environmentally conscious. Here are 11 simple ways you can reduce, reuse, and recycle in your office:
Reduce
Install air dryers instead of using paper towels
If you go to any toilet in an office, you will observe that paper towels are used. While paper towels are one of the most essential toilet supplies, it produces a large amount of waste. An alternative you can use are air dryers, which are not only reduce paper waste but are also more efficient in drying wet hands.
If you want to opt this alternative, go for the KDK Hand Dryer T09AC T09BC. As it is made out of material that  has anti-bacteria properties, you need not worry about bacteria or germs growing. To save energy, it operates automatically through an infra-red motion sensor. Also, it has a super-allery buster filter, which keeps the flow of air healthy and clean at all times.
With this handy hand dryer, you will significantly reduce paper towel wastage which can help to save the environment.
Save paper consumption by printing on both sides
The best practice is to save the quantity of paper you use every day is to print on both sides. Not only is this economical, it also maximizes the use of paper.
To economically print on both sides, you will need a high-quality printer. The Fuji Xerox DocuCenter SC2020 is a great investment as it is one of the most sustainable printers available in the market. As its running costs are low due to the S-LED print engine technology combined with the EA-Eco toner, it uses the least amount of energy to produce quality prints. That is not only so, the DocuCentre SC2020 conforms to the International ENERGY STAR Program, which focuses on developing and implementing energy-efficient office automation equipment.
Minimize the use of loose paper – use a notebook instead
More often than not, we tend to grab loose paper when we need to jot down important messages or notes from your phone conversation. Although it is convenient, it isn't a good practice as you end up wasting large quantities of paper. As most of space on the paper will be unused, precious resources become wasted as they end up getting thrown away most of the time.
Don't let this become a habit. The best way to quickly scribble down notes and messages is on a notebook. With a notebook, you tend to use up all the writing space available. As the pages are binded together, you are also less likely to throw pieces of paper away. Not only does it keep everything organized, you also won't lose your notes by accident.
Work with electronic documents and resources
As technology has grown significantly, you can leverage on electronic documents and resources. For example, Google Docs, Slides, and Sheets are online replacements for Microsoft Office, which you can use for free. Also, they come with multi-device synchronization, ensuring that all your employees are up-to-date with the latest updated files.
You can also use cloud services such as Dropbox and OneDrive where you can store all your files. The advantage is that your employees can access this data even when they are working from remote locations.
Using cloud services and electronic resources reduces reliance on hardcopy files and paper documents. As a result, this will significantly cut down on paper wastage.
Buy products with fewer packaging
As your office procures and purchases a significant amount of products on a regular basis, there is much unnecessary waste due to the packaging. However, this situation can be avoided if you buy in bulk. Not only are you producing less waste, you can cut down on costs as products in bulk are cheaper than the usual retail price.
Reuse
Get refillable stationery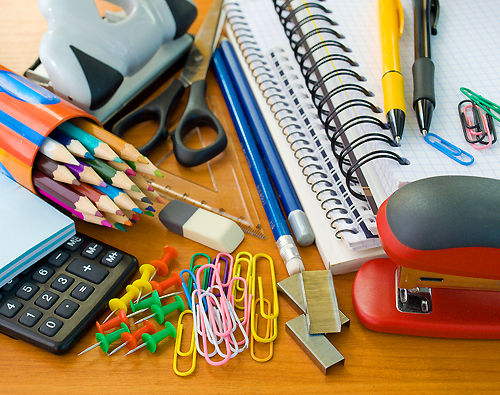 Non-refillable stationery is a large generator of waste as your employees have to throw away these products once they run out ink. Furthermore, these are consumables that get used up often. However, with the Pentel Energel Roller Pen Refillable 1.0 mm, you don't have to worry about these problems – you can still use the pen frame and all you need to purchase is the ink refill. They come in three colors – black, red, and blue. Also, you get to buy them in sets of 20, which reduces packaging significantly.
Reuse boxes/packaging as storage
The most common practice after getting the products is to throw away the boxes/packaging. However, you should avoid following this practice as these items can double up as storage for your office supplies. For example, you can keep all your printing paper or stationery stock neatly in cardboard boxes. This also helps with organizing and keeping supplies in order.
Shred unwanted paper and use them as packaging material
The vast majority of companies use pellets or "peanuts (foam-based)" as packaging materials to transport goods throughout the world. Although it is effective, it produces large quantities of waste regularly. This is because there is no other use for these items other than using them as a protective layer for packaging.
Instead, you can shred unwanted or used paper with the GBC Personal Shredder RSS2232 and use the paper shreds as packaging material instead. This not only gives you a huge supply of packaging materials for all your goods, you get to cut down on such trivial costs as well.
Use the other side of paper if only one side has been used
Educate your employees on your commitment to being environment-friendly by using both sides of the paper. It reduces the demand for paper, which allows you to cut down on expenses.
Recycle
Use recycled materials/eco-friendly products
Support companies that manufacture eco-friendly products. By doing so, it shows your company's commitment to being environmentally conscious and sustainable. In this case, you can start with purchasing eco-friendly stationery and supplies for use in the office. You can purchase the Besform Recycled Ringbook, which uses A4 paper. The woodfree paper used in the book contains at least 50% of recycled fiber.
Set up recycling bins
The last and best technique for recycling is to use separate bins for different types of products. It is important to segregate waste into general waste and recyclable waste. If it is not sorted, all waste will end up in the landfills, which will end up hurting the environment even more. Firstly, it will be a waste if recyclable materials end up being disposed and destroyed instead of being put into good use. Secondly, landfills produce greenhouse gases and harmful chemicals, polluting the surrounding environment significantly.
Use the Stainless Steel Twin Foot Pedal Bin, as it comes with lids in different colors. With the help of these colors, your employees can dispose the different types of waste products in the right compartment of the bin. They also come with pre-printed recycling stickers to help identify different recyclable materials. Also, it is assured to be durable due to the stainless steel material.
Practicing the 3Rs
We hope that you have enjoyed these tips that we have shared to ensure a clean and green workplace.
Want to find out more about workplace cleanliness and managing waste disposal effectively? Check out our previous article here.
To find out more about the products we have mentioned above as well as other products we offer, browse through our product catalogue on eezee.sg.