Pallets
Pallets, be it plastic or wood, are probably the most common item you can find in a warehouse or any factory. A pallet is a flat transport structure that supports goods in a stable manner while being lifted by a machine. It can be lifted by material handling tools: forklift, pallet jack, front loader, work saver, jacking device, cranes etc. It forms the structural base of a unit load which allows handling and storage efficiencies.
Pallets are often placed below goods and containers and are secured with strapping, stretch wrap or shrink wrap and shipped. The modern usage of pallets has superseded older forms of crating like the wooden box and the wooden barrel since its invention in the twentieth century. The widespread use of pallets can be explained by one very practical reason — it works well with modern packaging such as corrugated boxes and intermodal containers commonly used for bulk shipping.
Wood and plastic pallets are common and widespread. Metal pallets, paper pallets and pallets made from recycled materials are less common and have very specific use cases. Each material has advantages and disadvantages.
Plastic Pallet vs. Wood Pallet
Let's us try to understand why some companies prefer the use of wooden pallets while others prefer the plastic.
Wood Pallets
Many people consider low-cost pallets, which often use softwood, disposable. Logistics companies usually throw them away as trash together with other wrapping parts, at the end of the shipment. These disposable pallets are often simple stringer pallets, and raisable from two sides.
Hardwood block pallets are slightly more complex and costlier to make. As such, the recipient usually sends the pallet back to the sender or pays a deposit is prior to shipment. Otherwise, the pallets are sold after shipment. Hardwood block pallets are able to withstand a heavier load compared to it's softwood counterpart.
However, wood pallets can pose terrible biological problems as they are vulnerable to chemical and biological contamination, such as growth of bacteria in food and produce transportation, and even pest infestation. Food and produce industries tend to avoid using wooden pallets and instead opt for plastic pallets which they consider a more hygienic alternative.
Wooden pallets are vulnerable to biological risks like bacterial contamination and insect infestation. They can be mitigated by using ISPM 15 certified wooden pallets which have been debarked and then heat treated or fumigated with methyl bromide and then branded with a mark of compliance.
Common Industrial Uses
General usage
Food & Drug administration
Storage
Chemical
Export
Variable Specifications
Load Weight
Type of wood

recycled wood
hard wood
soft wood
kiln dried wood
composite wood

Fasteners — staples or nails
Plastic Pallets
The most viable substitute to the wood pallet is a plastic pallet. They are very durable and light, and about the same price as a wood pallet. In addition, plastic pallet does not require fumigation for export, is half the weight of wood and it satisfies good storage practice for food and pharmaceutical customers.
Common materials used in making plastic pallets are:
polyethylene
polypropylene
recycled PET (drink bottles).
They are light, tough and extremely durable — lasting for a hundred trips or more. Plastic pallets are also resistant to chemicals, corrosion, weathering and rot. They are pest free and able to handle wet environment well.
The dynamic load capacity ranges from 500 kg to 1.5 tons, depending on the design and raw materials used.
Durability & Service Lifespan
Plastic is long lasting and sturdy. This is especially important in the usage of plastic pallets as these must support lots of items of various weights many times. The following are some important points to consider when it comes to selecting pallets:
Ability to withstand being lifted by a forklift & transported many miles in trucks
Service lifespan
Resistance to weathering
Plastic pallets are difficult to repair, and can be ten times as pricey as hardwood, hence they are often used by logistics companies who can gain from their toughness and stack-ability. Many large supply chains have ramped up the use of plastic pallets due to the need to reduce costs through waste, transport and health & safety.
Safety, Hygiene & Ease of Transport
Due to the unique physical and chemical characteristics of the plastic pallet it is an ideal choice for airfreight. Here are some reasons why:
Exemption from inspection for biosafety issues
Do not require fumigation ( Saves time & money)
Resistant to most acids and chemical contamination
Some plastic pallets can collapse from plastic deformation (creep) if used to store heavy loads for long periods. There is no risk of injuries to workers as plastic pallets are light and have no protruding nails or splinters like wood pallets.
Plastic pallet usually have anti-slip rubber grommets to make the unit load stable and to guard against load shifting by providing a non-skid surface. Also, pallets and dollies can be combined to eliminate pallet teetering, the need for extra lifting equipment. Therefore creating valuable space in busy operating environments and as a result, it saves time and cost by reducing supply chain handling. 
Customisability
Companies usually customise plastic pallets to meet their specific shipping needs. Many companies would also mould RFID chips into the pallets to track and monitor the location of their inventory.
Low-cost
Usability is the major reason so many companies are going with plastic pallets and many manufacturers have taken advantage of this by creating new designs specifically for each industry. In addition, many low cost options are available on the market now to compare quite favourably with their wooden counterparts. The use of recycled resin makes it even more affordable.
In summary, plastic pallets are far better than wooden pallets in the following areas:
Sanitisability
Odour resistance
Fire retardancy
Longer service lifespan
Durability
Product protection
Non-splintering
Weight
The above-mentioned benefits of plastic pallets provide savings on transportation and labour costs and also making them safer and more environmentally friendly.
How to handle wood and plastic pallets
Fire Hazard
Firstly, both wood and plastic pallets pose as fire hazards to pallet owners. Pallet owners should consider storing their pallets outdoors or in a detached structure, unless protected by active fire protection installations.
Food Safety
Wood pallets used to transport food can in fact have harmful bacteria such as E. coli and Listeria.
The National Consumers League reported that during a testing of 70 wood pallets and 70 plastic pallets that have been loaded with perishable products and transported to an end user was shipped overnight to an independent microbiology lab for testing. E. coli. bacteria was found on 10% of the wood pallets and 1.4% of the plastic pallets.
If you are looking to purchase plastic pallets, here are a few of our suggestions.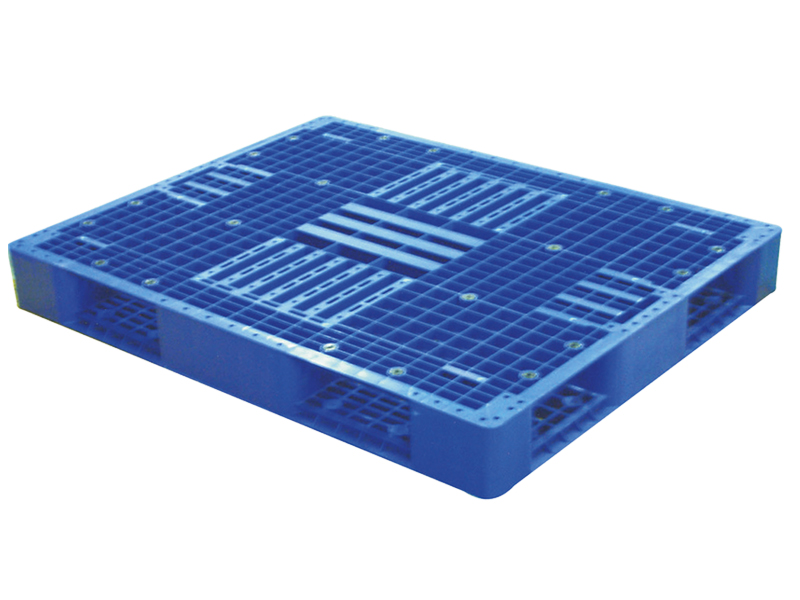 This is a lightweight, low-cost and very durable plastic pallet from Toyogo. Injection moulded into one piece, this recyclable 4-way entry plastic pallet is a good substitute to wood, weighing 50% to 70% less than wooden pallets. It's dimensions are 1410 x 1110 x 150 mm.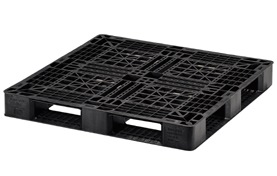 This is another light and durable plastic pallet. It also has a 4-way entry design for forklifts or pallet jack loaders and is suitable for export.
We know that space is a huge damper for many businesses in Singapore. If you happen to be looking for storage solutions to better make use of your storage space, you can check out this article for some of the crates and storage boxes featured.
Finally, you can find the products mentioned in this article and many more can be found on Eezee's platform for your purchase.
Singapore's first B2B marketplace, Eezee, offers buyers and sellers a secure method to transact in industrial hardware and supplies. With Eezee, you can instantly compare the product specifications and listings with the help of our fully integrated search engine. Please click here if you would like to know more about Eezee.
If you would like to be a seller on the Eezee platform, please contact us here.
For promotional and marketing opportunities, feel free to leave your details here.