Firstly, the Brymen BM869s, like all other quality Brymen multimeter, has a very great build. While it may not hold up to that of Fluke multimeters in terms of robustness. The Brymen BM869s is nonetheless well known as a great Fluke alternative because of its durable case and integrated rubber holster.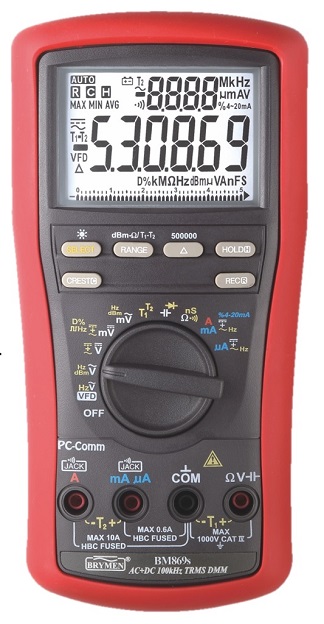 Features & Specifications
The multimeter has almost every function that an electrician would want.
AC/DC voltage 500mV to 1000V
AC/DC current 500µA to 10A
Good capacitance, resistance and conductance ranges
Frequency & duty cycle
Dual 5 4/5-digit LCD backlit display
True RMS AC+DC
Min/Max & crest modes
VFD voltage filtering for variable speed drives
4-20mA loop current tests
Dual Temperature Display (Type K)
dBm readings
CAT-IV safety rating to 1000V
Range
Accuracy
DC voltage
500mV / 1000V
±(0.02%+2) @ 500mV-5V
AC voltage
500mV / 1000V
±(0.5%+40) @ 500V-1000V / @ 45-300Hz
AC+DC voltage
500mV / 1000V
±(0.8%+40) @ 5V-500V / @ 300Hz-5kHz
DC current
500µA / 10A
±(0.15%+20) @ 500µA-500mA
AC current
500µA / 10A
±(0.5%+50) @ 50-60Hz
Resistance
500Ω / 50MΩ
±(0.1%+2) @ 50-500kΩ
Capacitance
50nF / 25mF
±(0.8%+3) @ 50-500nF
Diode
2V
±(1.0%+1)
Loop current
4-20mA
±(25 digits)
Temperature °F
-58 to 1832
±(0.3%+3°)
Temperature °C
-50 to 1000
±(0.3%+1.5°)
Build Quality of the BM869s
Brymen is well-known for its attention to detail and its solid designs. They are also focused on the manufacturing quality, safety standards, product performance and affordable pricing. As a result, the BM869s, like many other Brymen products, is durable, high quality and affordable. Hence, making the BM869s a serious alternative to Fluke.
Ergonomic Design
The BM869s has an ergonomic streamline design, the multimeter is slimmer in the center which allows for a natural and comfortable grip. The rubber holster has a great rubbery texture unlike other cheap feeling PVC plastic holsters that may "melt" and get sticky over time.
Its protective rubber holster helps to withstand shock on all four corners if it is dropped. The rubber holster also has holders for test probe storage. You can wrap the wires 3 times around the multimeter and tuck the test leads into the holders when no longer in use. The holster is also replaceable and washable.
Buttons & Range Selector Switch
The buttons on the BM869 are soft and has a good tactile feedback. The buttons are responsive and do not require much strength to press down.
The range selector switch is rather small and limits the space for the fingers. It rotates smoothly and easily.
Tilt Stand / Hanger
The Brymen Bm869s multimeter has a wide tilt stand and when opened up, it sits steadily on a work bench.
The tilt stand also doubles as a hanger. You can turn it up and hang the multimeter on anything from a hook or a nail. The multimeter has a narrow viewable angle and therefore it is not advisable to use it this way.
Battery
The 9V battery can be easily changed via the back battery cover. Even though this unit may not have any waterproof specifications, there is an o-ring on the battery cover that will stop any liquid from getting in. Inside the battery housing, it is lined with a large sponge to keep the battery in place.
Test Leads
The BM869s Brymen digital multimeter comes with high quality test probes, soft silicone insulated wires and rubberized probes. The tips can be converted to :
Fully exposed
with rubber cap
Banana plug with threaded end wrapped around the exposed test tips
The test probes can be easily tucked into the probe holders at the back of the holster.
LCD Display
The distinctive feature of the Brymen BM869s is surely its display. It can measure to 500,000 counts in DC mode or 50,000 counts in normal mode.
The LCD display is bright and easy to read from a distance. The display is able to withstand the pressure of fingers pressing down on it. The display is also able to withstand shock and impact when dropped with the display facing down, up to 1.5 meters.
It has an impressive backlight that lights the display evenly with just 3 LEDs. The backlight turns off after every few seconds so as to conserve battery life. The LCD display has a great screen contrast.
Another thing about the LCD display is that it has a sampling/refresh rate of 5 times per second in 500,000 count mode. It has a super responsive bar graph that refreshes up to 60 times per second, making the fastest and most minor fluctuation instantly visible. It can come in handy when detecting for ripple issues.
However, if positioned outside the optimal viewable angle, you would not be able to see properly.
Safety Ratings
The Brymen Multimeter BM869s is an industrial digital multimeter with a CAT-IV-rated meter to 1000V, which is an excellent electrical safety rating. It has an overload/surge protection of 12kV. It is an industrial strength meter that is able to measure all kinds of systems from power distribution to electronics.
The battery wires of the BM869s run through a hole near the input jack for the high amp range. This may seem like a red flag. However, this is not an issue because this multimeter is certified with a UL label, meaning it has passed the UL rating tests. Thus, you can rest easy when using the BM869s multimeter.
The fuses within the multimeter are both HRC type. The milliamp/micro-amp input is protected by a 400mA fuse while the high current input is protected by an 11A fuse. Both are quick blow fuses and rated to 1000V.
Finally, the entire case is sealed tightly with rubber seals and o-rings, making it a very dust-proof multimeter.
Function & Performance of BM869s Brymen Multimeter
The Brymen multimeter BM869s is has all sorts of functions an electrician would probably need.
Continuity mode
In this mode, the multimeter responds very quickly and beeps very clearly. The beeper will stop beeping if the resistor is over 84 Ohms ( Ω ). The maximum measured resistor within the range will be 531 Ω before it displays OL.
The "Audible threshold for the Audible Continuity Tester is between 20 Ω and 200 Ω". This information is written in the user manual and probably needs to be corrected.
Relative Mode
The relative mode does not lock the auto-range and allows the user to "REL" out at zero Ω and go up to 1M Ω.
BM869s Battery usage
The Brymen BM869s comes with a single 9V battery which limits the usability of advanced functions such as data logging duration. Below are the battery usage details as supplied by Brymen:
Power Supply: Single Alkaline 9V battery
Power Consumption: 6.5mA typical, 8mA for VFD ranges
Low Battery: Below approx. 7V
APO Timing: Idle for 17 minutes
APO Consumption: 70uA typical (sleep mode)
Conclusion
In conclusion, the Brymen BM869s is a great modern digital multimeter. Overall, it is an excellent industrial grade multimeter with 1000V CAT IV safety ratings. Surely, you can be rest assured and use it with confidence. Although the multimeter may not outclass its competitors, it is still rightfully an exceptional product in terms of build quality and pricing. And with so many useful features to offer, it is no doubt why many turn to the BM869s as their multimeter of choice.
At a price point of USD $250 , this product is second to none. Highly recommended as an alternative to the Fluke multimeters.
Note: The BM869s is the upgraded model of BM869 to meet the requirements of the latest 61010-1 3rd Edition. All of their functions, ranges & features are maintained the same. Only their input protection circuits are with slight difference.
At such a convenient price, this multimeter is your best bet.
Buy Brymen BM869s digital multimeter from Eezee now.
Additional Information