About Prestar
Prestar started operating in the year 1947, in Osaka, Japan. Since the founding of this manufacturing company, they have only focused on producing products of the highest quality. Prestar continues to operate within Japan so as to run an integrated product in their own factories. This is so that they can continue meeting customers' high expectations and demands by ensuring that their products are of excellent quality, without any delays in delivery.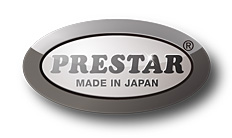 Whether it is the smallest hand trucks or the larger worktainers, the company focuses on improving their usability and durability for all products. Prestar uses double coat paints on all their products, which makes them resistant to rust. The company uses "UESUGI style" system, which evolved from the ground-breaking Kanban technique. This technique allows them to implement an efficient production system that to produce only how much is needed, when they are needed. That is not all, Prestar is also able to minimize its energy and electricity consumption. Due to the efficiencies of this new system, they can continue to manufacture top-notch products at lower costs. They continue to evolve their manufacturing techniques to keep up themselves up-to-date.
To understand more about what Prestar offers, we will be featuring four different products from Prestar, ranging from worktainers to trolleys.
Product showcase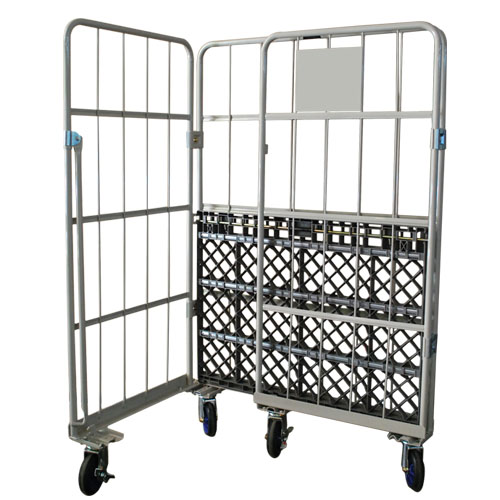 The Prestar Worktainer WT-10-60-17P allows transportation of huge quantities of products as well as bulky items. When not in use, they can be conveniently nested. They are frequently used in factories and warehouses dealing with packaging lines as they can be easily loaded into trucks for delivery. These worktainers is manufactured with a plastic base plate which is able to significantly reduce noise during use. The plastic base also makes the unit lightweight and extremely easy to handle. Despite using a lightweight material, the plastic base is able to carry a significant volume of goods.
Its double coating of cation electro-deposition and TGIC allows it to maintains its appearance and prevents rust even in harsh environments. Also, it has powder coating, allowing it to conserve its gloss, making it suitable for outdoor use. The worktainer comes equipped with high quality castors and bearings to ensure a smooth transportation and easy maneuverability. You are able to choose up to 3 shelvings on the worktainer, made of either plastic or metal.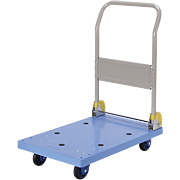 The PBS101 is designed to offer maximum reliability so that it gives you a great service life. Using the highest standards to manufacture the trolley, it comes with a unique design and a useful feature that can protect your goods. If you raise the handle by mistake, the equipped protector prevents the wheels from jamming and spilling all the goods on the floor. Also, it has a folding mechanism, giving the product adequate protection against any sudden impacts.
The Prestar Plastic Trolley PBS101 perfects the combination between strength and lightness, giving you the best of both worlds, with zero compromises. Prestar manufactured this incredible product through injection molding to improve its durability. Even though the product is lightweight as it is made out of polypropylene, the trolley can transport up to 150kg of goods.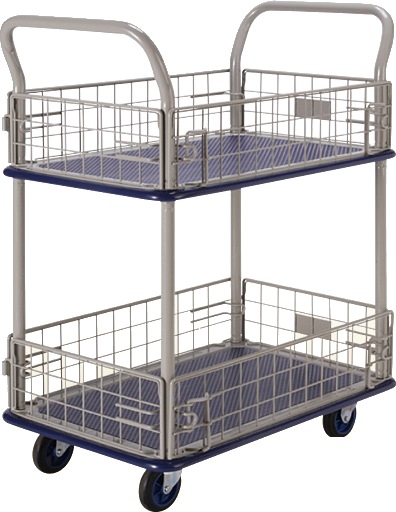 The Prestar 2-Tier Net Trolley NB127 is one of the company's premier products that you can get on the market. For this product, Prestar took a different approach to its design. Prestar made the corners curved, while fixing all the sides with rubber bumpers. As the bumper is able to absorb any shock due to collisions, this will also protected your furniture or walls from damage.
The deck is made of non-slip vinyl matting toe ensure longevity of the trolley. The 2-tier design makes it ergonomic as well as users can just use the top tier to transport their goods without having to bend down, thus protecting them from back potential back injuries.
Did you know that Prestar designs and manufactures their own tailor-made castors for each model of trolley? The MB127 comes with castors that are smooth and produces minimal noise when transporting. You can also use the NB127 in food processing plants. This is because the trolley uses reinforced plastic material, which prevents corrosion, despite coming in contact with food products. It also comes equipped with removable netting on the side, allowing you to stack up goods for more carrying load.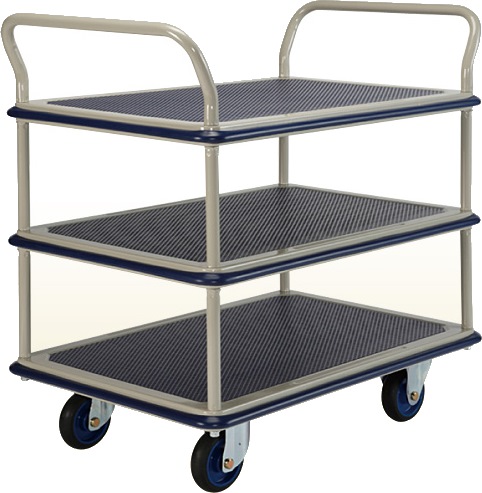 The Prestar 3-Tier Trolley NF305 makes transportation of goods as convenient as possible. As it has three levels, you can carry larger volume of goods, without damaging this product. The trolley has a carrying capacity of up to 300kg. It has two handles, which allows 2 persons to maneuver for better control. Its ergonomic design makes it easy to push with minimal effort from the user.
The total loading surface available on the NF305 is 805×610 mm, giving you ample amounts of space to transport bulky goods. It can carry a total weight of 300 kg in one go. Just like all other Prestar products, the NF305 has double-coating to keep it free from rust and other corrosive elements.
–
You can find and purchase the products mentioned in this blog post on Eezee's procurement platform.
Eezee.sg, Singapore's first B2B platform is a trusted marketplace for buyers and sellers of industrial hardware and supplies. With Eezee's help, you can compare the product offerings and listings easily on our platform.
Please contact us here if you would like to be a seller on Eezee.