VOGEL GERMANY has been making measuring instruments for over 70 years.
Vogel Digital Caliper is ideal for for internal and external measurement of parts where fractions are required.
This device is especially useful for parts imported from the USA, where sizes are displayed in fractions and a manual conversion from inches to fraction is required with a traditional digital caliper.
Fraction Measurements eliminates conversions between mm/inch measurements
Thumb Roll for quick movement across caliper
Extremely large LCD Display for clear readings
Zero Setting allows reference point setting
Factory Inspection Certificate for quality control and traceability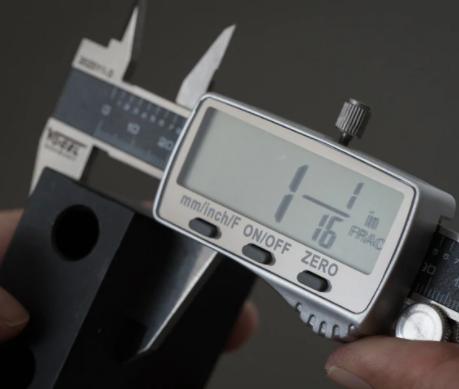 Resolution: 0.01 mm / 0.0005 inch
Repeatability +-: 0.01 mm
Max. total accuracy +-: 0.03 mm
Caliper jaw length: 40 mm
Caliper jaws (cross shape): 16.5 mm
Depth gauge: flat

DIN 862

• for craftsmen and trainees
• with extrem large LCD display      
• mechanic parts stainless steel, hardened
• large LCD display with clear reading, digit height 15 mm
• measuring jaws finely ground and lapped
• On/Off-button, with fixing screw
• mm/inch/frac in inch switchable, Zero-setting at any position
• incl. 1 x 3V battery (type CR2032, art.-no. 2002093), with operation manual