** PRICE PER CARTON **
Yu-Ki Ban® created the first tape that demonstrated the value of skin-friendly tape to the field of surgical tape, which was a concern for those with weak skins.
It seems that patients were also surprised that there were such an adhesive tape. Because Yu-Ki Ban® hardly peels off the keratin, we can apply again, and it's not painful. Not only it made the patients happier without pain, but it was easier for us to use as well. We use Yu-Ki Ban®, to about 99% our patients now, and skin trouble has decreased drastically.
As you can see, the gentleness of Yu-Ki Ban® on skin is gaining great praise from professionals working on the front lines in the medical industry. However, the concept of a tape that's gentle on the skin did not exist in the market at the time Yu-Ki Ban® was developed.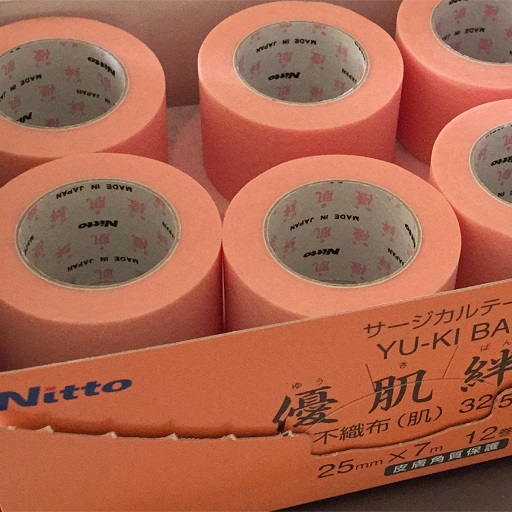 Experiment 1 - On toilet paper
We applied Yu-Ki Ban® and general surgical tape on soft toilet paper. When peeled off, you can see Yu-Ki Ban® hardly tears even soft, thin toilet paper.
Experiment 2 - On an onion peel
A thin onion skin is also a perfect experimental material to mimic skin. When general surgical tape is peeled off the onion skin, a thin skin sticks to it. Yu-Ki Ban® peeled off easily and leaves the skin as it is. It also explains how Yu-Ki Ban® does not damage keratin.
Experiment 3 - On newspaper
When peeling off general surgical tape, the surface of the newspaper sticks to the adhesive surface, and the newspaper itself rips. On the other hand, Yu-Ki Ban® only adheres to the printed surface, and the paper doesn't tear at all.
What's in the box: 12 rolls (25mm * 7m / roll) / box
** Tape Dispenser not included **
#YuKiBan Tape - We Care for your Sensitive Skin
#YuKiBan Tape c/w Stratagel Technology
#YuKiBan Tape #/ #Surgical #Tape #/ #Dialysis #Tape #with #Stratagel #Technology #Health #care #for #your #Sensitive #Skin