Product Description
TOYO FLUSH KING is specifically designed to remove gum, sludge, varnish, grease and dirt build-up in a quick and easy way. Use regularly to restore engine performance, improved fuel consumption and reduce carbon emissions.
TOYO FLUSH KING is formulated from unique ingredients to penetrate, loosen and clean deposits. It is fortified with special additives for removing most dirt from all kind of particles. With the new improvement , it will help to reduce fuel consumtion as wellas restore engine performance from all kind of vehicles.
Product Application
TOYO FLUSH KING is recommended to use to both diesel and gasoline engine.
The lubricating ability of FLUSH KING were made with special raw materials and additives imported from USA which will provide a powerful adhesion and strong cushioning action.
Features & Benefits
Powerful jet spray aerosol
Clean with minor dismantling.
Effective penetration, loosening and cleaning of deposits from all types of turbocharger, in-let-manifold, carburetors, fuel injectors, supercharger and other air intake components.
Help to remove gum, varnish, dirt and carbon deposits.
Reduce repairing cost.
Regain engine performance, fuel saving and reduce carbon emissions.
User and environment friendly
Direction for use: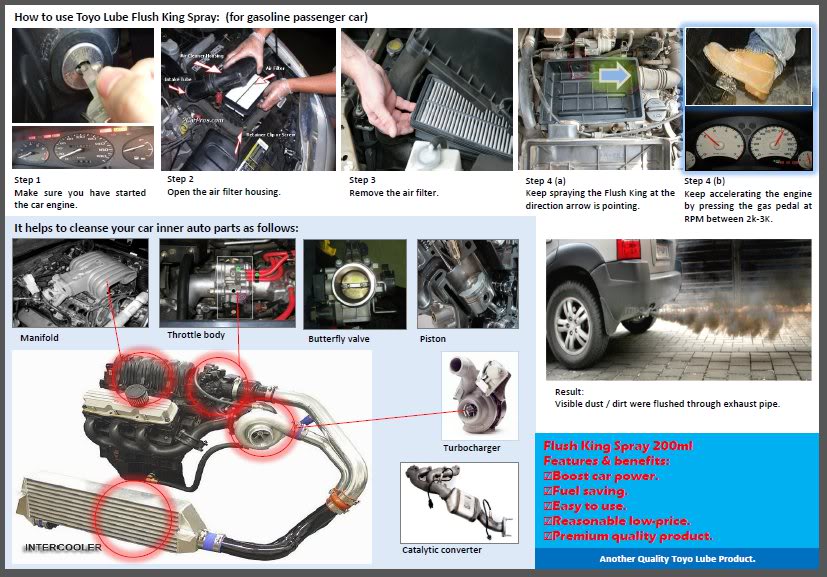 Before and After using TOYO FLUSH KING comparison: