One kit with everything needed for convenient garden watering. The spray gun (no. 2.645-265.0) simplifies work thanks to the handle with lock function, which ensures that the water flow is constantly maintained. Furthermore, 2 spraying patterns can be continuously adjusted: point and cone jet. It can be used either to water flower and plant beds, or to clean coarse dirt on terraces or garden furniture. In addition to the spray gun, the set contains a G3/4" tap connector with G1/2 reducer, as well as 2 universal connectors (one with Aqua Stop). The connector with Aqua Stop prevents the water flow on the end of the garden hose, even if, for example, the nozzle is removed when the tap is open. In addition, the universal connectors are suitable for all conventional garden hose diameters. By the way: Nozzles and connectors from Kärcher are compatible will all available click systems and

FEATURES AND BENEFITS
Spraying pattern continuously definable from hard jet to cone jet
Ideal for watering (cone jet) and cleaning (point jet).
Ergonomic control valve
Regulation of the flow rate with one hand.
Easy locking of the trigger handle
For convenient and continuous watering.
Aqua Stop
For securely detaching accessories from the hose without splashing.
Self-emptying
Optimum protection against frost damage.
Universal couplings (1/2", 5/8", 3/4")
Suitable for all standard garden hoses.
Hook-and-loop system
Works with all well-known brands.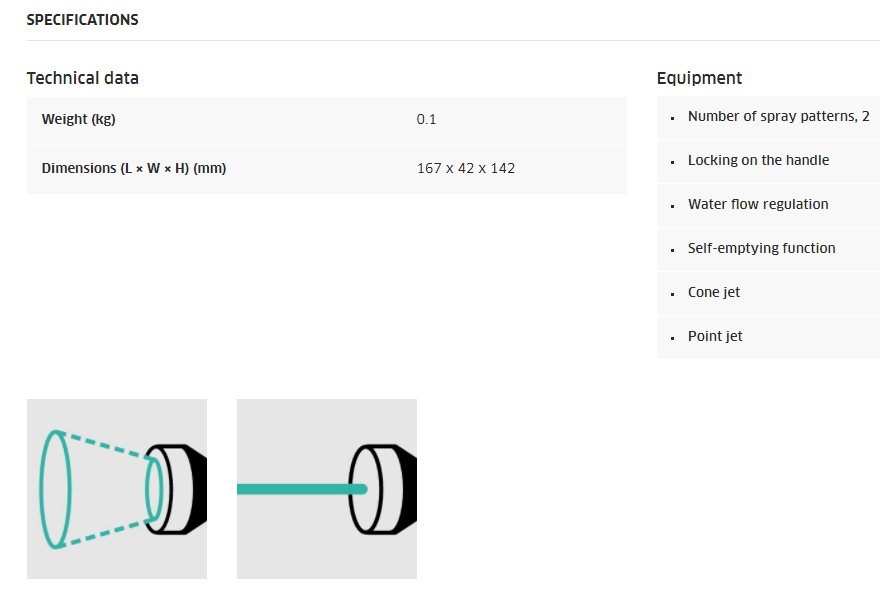 Suitable for simple watering tasks
For watering plants and flowerbeds
For cleaning lightly soiled surfaces