The Kärcher pot watering set for terraces is part of the Kärcher Rain System® and is perfect for the efficient watering of up to 15 plants. Pots and window boxes can be conveniently watered using the hose system and droppers. The water volume can be individually regulated on each dropper, making need-based watering of plants possible without wasting water. A 10 m flexible, 1/2" hose (incl. G3/4 brass tap adaptor with G1/2 reducer and hose connector for connection to the tap) is used for supplying water. The thin hose (10 m included) is connected using sleeves (10 included), which thanks to the integrated needle can be connected to the Kärcher Rain System® hose without the need for tools. Watering in the pots is done via droppers (15 included), which can be fixed using ground spikes (15 included). Hose stops (3 small, 1 large) for sealing and T-connectors (10 included)
FEATURES AND BENEFITS
Pot watering set for 15 plants
Convenient and efficient watering of pots and window boxes.
Dropper with water flow regulation
Targeted and need-based watering of plants.
Expandability
Can be combined with Kärcher Rain System® components, as well as with the eco!ogic SensoTimer for efficient control.
Can be individually combined
Extremely flexible for laying.
Flexible hose and collar with integrated needle
Installation without the use of tools.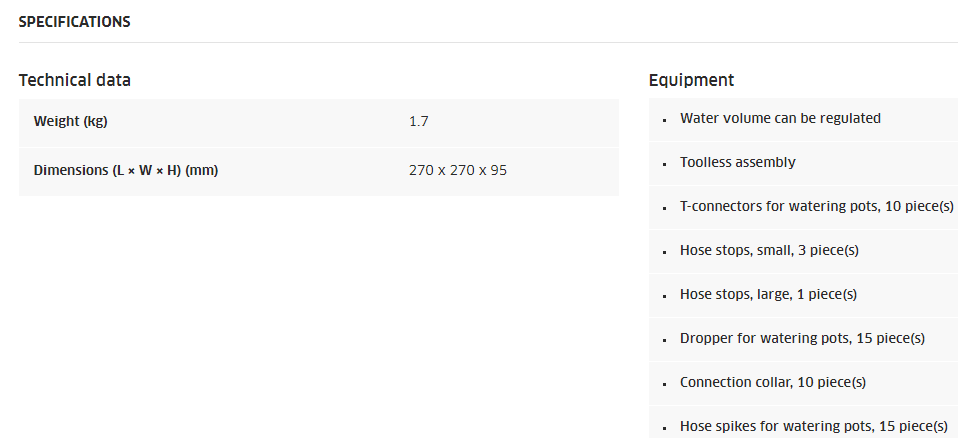 APPLICATION AREAS
For watering potted plants
For watering window and balcony boxes
For watering plants on terraces and balconies