Asg Joint Compound -28kgs/pail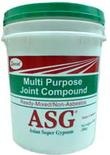 Product Details
Specially formulated for quality finishing of drywall joints.
A ready-mixed/Non Asbestos vinyl compound used for embedding Joint Fibre Tape, for filling and for final touch-up coats in interior gypsum panel applications.
It is ideal material for covering embedded fasteners, corner beads, and for skim coating gypsum panel surfaces where necessary.
Questions?
Please
log in
to post a comment