AMOCAN Chilli Seaweed Crunch 200G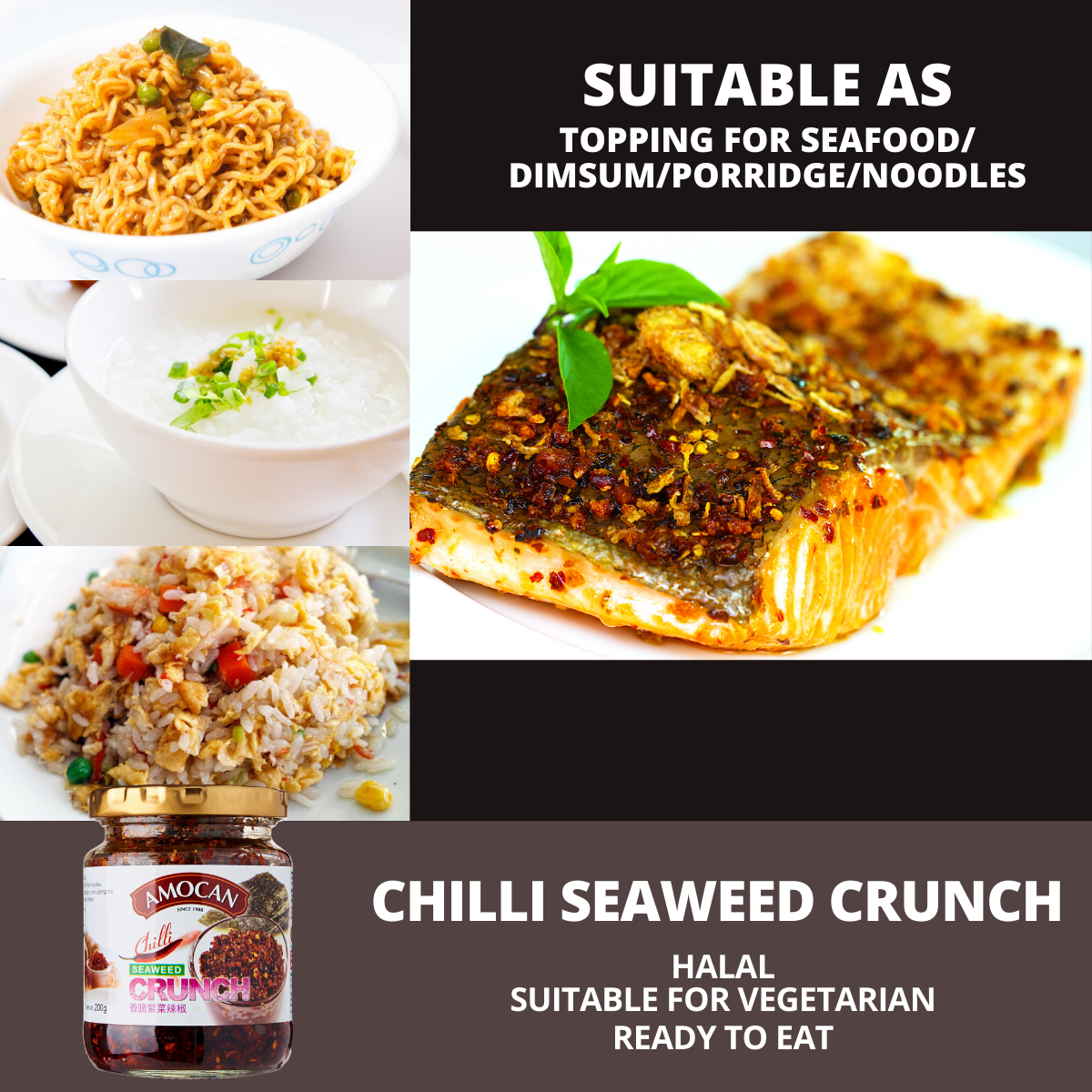 Halal
Suitable for vegetarian
Serving Size (Per Jar): 7 people
Ready to eat
Trans-Fat free, No added MSG,No added preservatives, No added artificial colouring
Awards: Tasty Singapore, Superbrands Singapore, Golden Brand Awards
INGREDIENTS: RBD Palm Olein, Soy Powder (Contain Soybean), Dried Chilli, Sugar, Seaweed, Salt, Permitted Flavour Enhancer: Hydrolysed Vegetable Protein (Soybean) & E635 (Disodium 5'-Ribonucleotide)
STORAGE DIRECTIONS: Store in cool, dry place. Consume within 3 days after opened.
ALLERGEN WARNING: This product have been made in a factory which uses soybean,shrimp,gluten,fish,milk,peanut and sesame seeds.
AMOCAN Brand Story
Amoy Canning has been proudly family-run for over 100 years. We are dedicated to
produce family recipes using the highest quality ingredients with home-cooked taste and goodness. Founded in Amoy (Xiamen) in China in 1908 by Ng Teng Guan, the company became popular for its home-made recipe of soy sauce and other sauces.
We soon grew to make a range of foods in convenient packaging. In 1951, our factory in Singapore started and produced curries which became local favourites. We still maintain many of our traditional recipes, while continuously creating new recipes for modern families. We hope your family enjoy our recipes as much as many generations of families have.