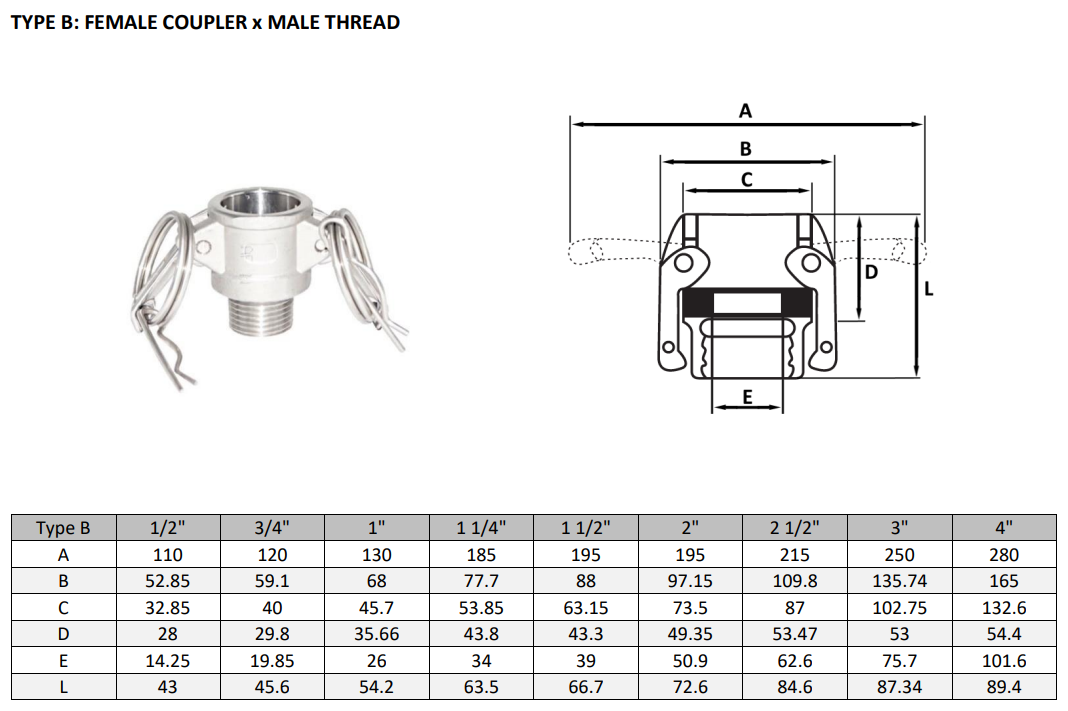 Type B camlock (Aluminum and Brass)
What is Camlock Fittings?
Camlock fittings is also called as cam and groove coupling. It has been widely used for quick pipes and hoses connection and disconnection without using any tool to facilitates the transferring of the commodity or liquids from one end to another. Camlock fittings is most widely used in coupling world. The advantages of camlock fittings are its simplicity, reliability, versatility and cost efficiency.
Camlock fittings are designed and made in compliance to EN 14420-7 standards (DIN 2828). EN 14420-7 standards are approved by CEN (European Committee for Standardization). Yet, EN 14420-7 standards interchangeable with MIL-C-27487 standard, but varies in terms of hose shank design, thread, and part number.
Camlock fittings is applied in various industries such as petroleum, medicines, food, agriculture, chemical, waste water or sanitation, etc. It works well in dirty environment too where frequent maintenance, connections and disconnections of pipes are needed such as petroleum applicants. However, camlock fittings is not suitable for gas and steam application due to safety concerns.
The three common types of materials of camlock are stainless steel, aluminum and brass. Stainless steel SS316 material camlock fitting commonly applied in corrosive, food and beverage, petroleum, pharmaceutical or chemical industries while aluminum material is most common used and can be applied in almost all industries. On the other hand, camlock fitting of brass material applicable in salty environment, marine applications or petroleum industries.
There are 8 camlock fitting types, ranging from type A to type F with various types of connections. The accessories of camlock includes safety pin, ring, pin, and handles. The sizes of camlock fittings range from ½" to 4".
The maximum pressure for Camlock fittings is 250 psi but the working pressure is still subjected to the body material of the camlock fittings. The working pressure for aluminum and brass are as below:
½" is 150 PSI
¾" is 250 PSI
1" to 2" is 250 PSI
2 ½" is 150 PSI
3" is 125 PSI
4" is 100 PSI
About Type B camlock fittings,
Size : ½" to 4"
Male thread with female coupler
Connection type: Threaded NPT / BSPP
Material : Aluminum / Brass/ Stainless steel
Compatibility : Type F coupling
Camlock fitting installation guideline:
Above the cam handle, release the female coupler lever.
Slide the adaptor into coupler with regular hand pressure.
By pushing the levers, the coupler is closed. When the levers are closed, it locks the adaptor and establishes a connection.
ALUMINIUM TYPE B
1/2" ALU TYPE B,F COUPLER x M BSPT
BRAND AF HYDRO
EAN 8886481723155
PART NUMBER FL-CG-AL-B-G-08
SKU FL-CG-AL-B-G-08