Choosing the right sealant can be a tricky process. Do you know whether you need a silicone sealant or a caulk? Which one is better for outdoor use? Which one can you use safely inside a refrigerator?
According to statistics, demand for sealants is at an all-time high. That means the marketplace currently has a variety of sealants and caulks available. Loctite is one of the world's well-known brands for sealants, adhesives and surface treatments. So if you want to choose the right one for the job, you will need to know exactly what you are looking for.
To help you discover the right sealant for your renovation or job, we have compiled a guide to help you decide. So read on.
Silicone Sealant
As the name suggests, silicone sealant is made primarily of silicone. Thanks to its strong performance characteristics, you can use silicone sealants in a wide variety of building applications.
Some of the features of this silicone-based sealant include temperature resistance and UV resistance. Due to its silicone properties, it also has high movement capabilities and continued flexibility over time.
In addition, silicone sealants generally have longer service lives than other types of sealant, so when you are choosing the right sealant, this can be your best bet.
Silicone Sealant Uses
Choosing the right sealant is difficult if you have no idea which places the sealant is best suited for. With silicone sealants, you'll find that they will be useful in a wide variety of places.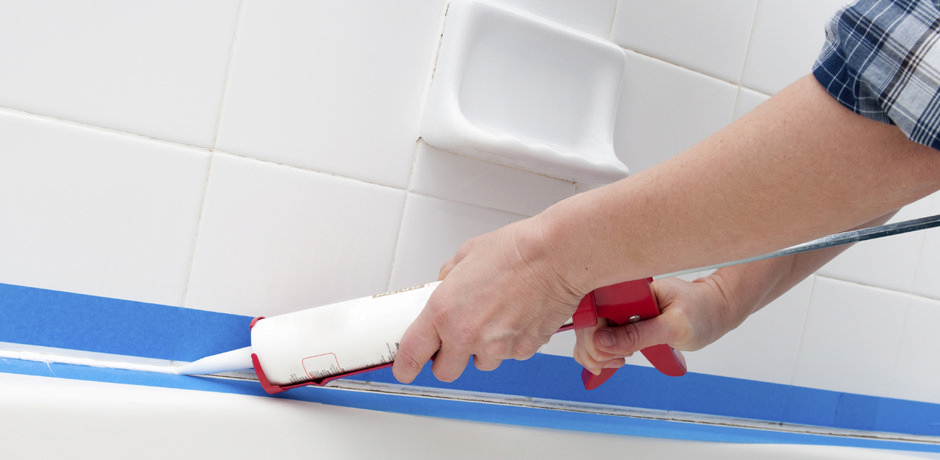 They are perfect for sealing gaps where water can get in or escape, such as in bathtubs, windows or showers. You can also use silicone sealant on various surfaces such as glass and mirror.
Silicone sealants are suitable for outside use. They are also handy for sealing downpipes or gutters or to repair the rubber trims on cars.
Sealant Types
There are actually several different types of silicone sealants. Since each type has its own unique properties, it is imperative that you learn the pros and cons of each so as to make informed decisions when choosing the right sealant.
1. Low Modulus Sealants
These types of sealants are stretchy but not the most durable. Therefore, they work perfectly for sealing glass wall assemblies, curtain walling, glazing windows in swimming pool buildings and perimeter seals.
Low modulus sealants offer a better adhesion and can help accommodate more movement. They are very long lasting compared to other sealant types in the same category.
A type of low modulus sealant that we have is the Selleys Proseries Flexiseal Industrial Grade Sealant. As they are highly stretchy, they have high movement capabilities and are flexible. This makes them very easy to use and getting the sealant into the right spots.

2. High Modulus Sealants
In contrast to low modulus sealants, high modulus sealants are less stretchy but they are more hard-wearing. This means high modulus sealants are appropriate to use in showers, sinks, baths and kitchen worktops.
Generally, they are useful for any sort of internal or sanitary application. However, they are also suitable for glass to glass joints and showcases.
3. Acetoxy Silicone Sealants
This type of sealant releases acetic acid as it cures. Aside from this, it is more rigid and the cure is quick. However, this type of sealant typically has poor adhesion, especially on surfaces like plastic, glass, and aluminium.
An acetoxy silicone sealant we recommend is the Eurofix Universal Silicone 100E. This particular sealant is resistant to aging, cracking and discolouring as well as contact with any chemicals. This makes it great for sanitary applications as well as sealing electric sockets and switches.
4. Neutral Silicone Sealants
Neutral silicone sealants release alcohol and have practically no smell when they cure. This means they have better adhesive properties for a wide number of materials. This includes stone, plastics, aluminium, glass, and PVC-U.
The only concerns with these types of sealants are that they are more expensive and slower to cure. They can take anywhere from one to five days to cure depending on the temperature, thickness and humidity conditions.
5. Low Modulus Acetoxy Sealants
As the name suggests, these are stretchy acid based sealants. People usually consider them to be all-rounders that are incredibly cost-effective. As such, they are suitable for sanitary uses, general building use, exterior and interior glazing applications and adhering building materials together.
6. Low Modulus Neutral Sealants
When choosing the right sealant, this type is perfect for door frames and sealing windows. It is able to accommodate more movement and offers better adhesion. People usually consider these sealants to be longer lasting than low modulus acetoxy sealants.
7. High Modulus Acetoxy Sealants
You can usually use these sealants for sanitary and kitchen applications. This is because most of these sealants contain fungicides. Therefore, they are able to keep some harmful microorganisms away, something you should consider when choosing the right sealant for your kitchen applications.
8. General Purpose Silicone
When it comes to choosing the right sealant, the general purpose silicone is always the best way to go. You can use this silicone on most building materials, including wood and glass. It also offers good durability and elasticity. However, it usually does not contain fungicides.
9. Sanitary Silicone
This type of silicone includes fungicides. This reduces the formation of mould on silicone, which is perfect if it is frequently exposed to moisture. Another way to avoid mould forming on the silicone joint is to make sure the surface is as smooth as possible, which makes cleaning easier.
You can also reduce mould growth by improving ventilation in rooms that have high moisture levels.
10. Glazing Silicone
This sealant offers a very good adhesion to glass as well as a cure that has an extremely polished finish. You can use this to seal around the edges of glass that can be found around windows and doors as well as to glaze the panels for bedding.
The Dow Corning 795 Structural Glazing Sealant is great for structural glazing and weatherproofing applications. It is able to withstand virtually any weather conditions. This sealant easily cures at room temperature by reacting with the moisture in the air to form a durable silicone rubber seal.
11. Frame Sealant Silicone
This is a tough type of sealant that is designed to withstand weather exposure as well as to accommodate for large amounts of movement. It sticks well to most building materials and you can use them to sealing door frames and windows.
They are usually available in a wide range of colours to match the framing materials, so it is easy to conceal the sealant.
12. Food Safe Silicone
These silicone sealants have a low toxicity that is designed for food contact applications. You can often use them for sealing the inside of fridges.
The SOUDAL FIX ALL CRYSTAL 290ML is one of the popular sealants of choice when food safety is a requirement.
13. High-Temperature Silicone
If you're struggling to choose the right type of silicone to withstand high temperatures when cured, this is the perfect sealant for you. It can withstand temperatures of up to 260 degrees Celcius, although some sealants can withstand temperatures of up to 300 degrees Celcius.
You can often use them in applications for industrial and electrical equipment as well as for making seals between high-temperature surfaces.
14. Aquarium Silicone
You can use this silicone to seal and glue glass in aquariums, as this is very tough. Therefore, you are strongly advised not to use building silicones for the construction of fish tanks.
Pros and Cons of Sealants
There are a number of pros and cons to silicone-based sealants.
Due to their flexibility, silicone sealants keep a watertight seal even in places where there are wild fluctuations in temperature. You can also use them for a long time if you keep them in good conditions and maintain them well.
Moreover, they are completely waterproof and bond appropriately to most surfaces. Due to their properties, they don't support mildew growth either.
The disadvantages to silicone sealants are that they have a strong odour and can take a while to fully cure. In addition, it is also not possible to paint over these sealants.
If silicone sealants don't please you, there are also other options available for you.
Caulk
If you are struggling with choosing the right sealant, there is always caulk available. The big difference between a silicone sealant and caulk is their elasticity.
Caulk sealants are made from a flexible material, usually silicone, so they are useful for areas that are prone to expand. On the flip side, caulks are often quite rigid when they dry and are often used in areas with minimal expansion.
Where Can You Use Caulk?
Caulk, especially silicone-based caulk, can be used in a variety of areas. For one thing, you can use it around sinks, tubs, and showers. In addition, you can also use this in the gaps of shower tiles and in between sinks and counters too.
As it is rigid in its usual form, caulk can also work well in outdoor areas. You can also use it to seal around the foundation of an old home to prevent air from entering where the sliding door or frame overlaps the foundation of the house.
Moreover, you can use it to fill areas where different materials meet, such as around doors and windows.
If it is a paintable silicone caulk, you can also use it on the outside of window units. This helps to properly seal sliding edges and windows.
Types of Caulk
There are plenty of different caulks available. If you're having trouble choosing the right sealant, read below to discover the right one for your project.
1. Acrylic Latex Caulk
People consider this to be the general-purpose caulk. It is fast drying, cheap and useful for a wide range of applications. The most important feature of this caulk is that it can be painted over. This is often why it is known as the painter's caulk.
You can use this caulk for filling in blemishes and small gaps in wood trims. Moreover, you can use the acrylic latex caulk to seal wood joints that you can then paint over. Although it may seem like it is suitable for wet areas, it is best to use the caulk for dry areas. The acrylic latex caulk may seem to be holding up with moisture, but you should be sure to protect it with a layer of paint too.
2. Butyl Rubber Caulk
Primarily for outdoor use, this is a sticky caulk that is incredibly effective. You can use it as a great sealant for masonry and metal. You can use the butyl rubber caulk for joints that may move due to expansion. In fact, it can be suitable anywhere that faces between 5% to 30% shrinkage.
You can also use rubber caulk to fill in larger joints when used with a caulking rod. Most of these caulking formulas are paintable too. Therefore, this may be the best way to go if you're struggling with choosing the right paintable sealant.
3. Masonry Caulk
You can use this caulk to seal cracks and expansion joints in driveways and other concrete surfaces outdoors. It is also suitable for repairing and filling cracks in masonry-stucco walls.
Today, many formulas are made from polyurethane and some even contain sand to provide a masonry texture.
Pros and Cons of Caulk
Caulks, specifically acrylic caulks, are paintable making them suitable for a lot of different surfaces. They are also very tough and long-lasting.
However, as they have limited elasticity, they are susceptible to cracking in areas that would experience extreme temperature swings. They also have a tendency to dry out over time.
How Do I Stop My Caulk or Sealant from Failing?
According to the experts, sealants often cause around 90% of the problems, although they only account for 10% of the cost of a building project.
Why?
Well sometimes, caulks and sealants can fail. This can be due to issues with adhesives, cohesive or substrates. To put it in simple terms, the bond between the caulk and substrate can fail, thus the substrate can break or the caulk can tear.
These problems usually occur because of one or two errors. If you did not prepare the substrate effectively, or if you select the wrong product, the entire thing can fall apart. So before you choose a product, you should consider how you will use it.
Some Considerations to Take Note
When you are choosing the most suitable sealant or caulk, you should consider what materials the joint is made of and how much movement is likely to happen. Although some products may claim to be flexible, others are much better suited for frequent joint movements.
You should also remember that caulk is not recommended for gaps larger than half an inch wide at the midpoint!
In addition, you should also consider the location of the caulk or sealant's placement. If you will be placing the sealant in a sink or shower, you are advised to use a mildew-resistant product. Most caulks are already mildew resistant and this means the mildew will not degrade the product. However, this does not prevent the mildew from staining the sealant. Therefore, you should also contemplate using a product with added biocides that can help with the staining of sealant.
You should also consider when you will be going to apply the caulk or sealant. This is because the humidity, moisture, and temperature can affect the application process. Although water-based caulks can stand harsh weather once they cure properly, they require a couple of days of perfect weather to set.
Choosing the Right Sealant Has Never Been Easier
With so many sealants and caulks you can choose from nowadays, it can be quite overwhelming. However, with the assistance of the sealant experts, choosing the right sealant doesn't have to be an issue anymore.
For more information about the range of sealants that are available in the market, click here.