Regardless of the size of your company, you are bound to do business with multiple clients in different locations. For this very reason, it is important that your workforce is mobile, allowing your company to reach out to numerous clients in a timely manner. In such situations, the best solution is to utilize commercial vehicles. If your employees are constantly on-the-go, you need to ensure that their transportation requirements are well-taken care of. Let's take a closer look at why you should investing in commercial vehicles for your business:
Benefits of using commercial vehicles
Even if you are running a small to medium business, below would entail the advantages of using commercial vehicles:
Branding
I'm sure you know how important and critical branding is for your company. It gives you numerous opportunities to increase the value of your business. Branding also allows you to reach out to a larger target audience, potentially increasing your customer base. At the same time, as more people are aware of your business, it becomes easier to acquire clients.
Commercial vehicles are a great way to get your company's presence out there. Engage in wrap advertising by using company branded vehicle livery. Cover your vehicle with your company logo, colours and even company information such as contact number and website. This will not only increase awareness about what your company is about but it also serves to be a memorable way to spread messages about your business. By using the commercial vehicles as tools of branding and marketing, you can make all these advantages a reality.
Delivery
If your business transports goods from one location to another, it is better to invest in commercial vehicles than to rely on a third party delivery company. Furthermore, if you have a considerable number of deliveries, it would be more cost-effective to have your own delivery fleet. With commercial vehicles, you can deliver goods to your customers more efficiently and conveniently. It is also easier to track the vehicles and your workers' locations when they are out for delivery.
Transportation of employees
If the location of your office is tucked away in a business park or somewhere remote, it may be inconvenient for your employees to travel to work, especially if they do not have their own personal transport. In this case, your company may want to charter vans or small buses to ferry your workers from the nearest MRT station or a designated pick-up point to the office.
Arranging company transport will make travelling to and fro work more convenient and hassle-free for your employees. Furthermore, they are able to save on transport costs and they are also more likely to arrive to work on time.
Use by sales team for client meetings
Your sales team may be required to work on-the-go; travelling to different offices all over Singapore to meet various clients or suppliers. To make travelling less taxing on them, a commercial vehicle can be a good investment to transport your sales executives to different offices or meeting locations for work. This will not only allow them to save on travelling time via public transportation, they are also able to save on transportation costs.
What you should consider when getting a commercial vehicle
Already convinced that your business needs to invest in a commercial vehicle to facilitate a smoother operations flow? Before you get yourself a vehicle for the company, here are some of the factors you should take into consideration when purchasing one:
What is it used for?
The first thing you need to know is the main purpose of investing in a commercial vehicle. Why are you planning to get a vehicle for the company in the first place?
Are you going to provide your employees with transport facilities? Do you want to take charge of delivery and add a personal touch? The answers to these questions will affect the type of vehicle you are planning to get for the company. If the main purpose of getting a commercial vehicle is to transport employees, you will have take comfort into consideration. However, the considerations would differ if you plan to transport goods instead. In this case, you need vehicles with greater storage and space options.
Who will be using it?
Once you understand the functionality of the commercial vehicle, you need to decide who is going to use it. Are you going to hire a driver to take your employees around or is your sales team going to be behind the wheel when they meet clients?
It is also important to establish a clear company vehicle policy, determining who is eligible to use it, the obligations and responsibilities attached to the designated driver or employee as well as what should be done should a vehicle-related incident occur. All employees should be aware and should understand the terms of the policy.
Budget/Costs
The vehicle costs involve the costs of ownership pertaining to the company-owned vehicle. You will have to take into consideration the registration, tax, and insurance fees as these are three most important and costliest areas of vehicle costs.
Besides ownership costs, be prepared to pay for maintenance and repair costs as well. To maintain the upkeep of the vehicle, you would have to send the commercial vehicle for regular maintenance and servicing.
Size and type
Depending on what you plan to use the commercial vehicle for, you can either opt for a small van or a large lorry.
If you need to transport employees from one place to another, then it makes sense to go for a van. They have ample amounts of seats and space, making the journey comfortable for employees. At the same time, you can use the van to transport small goods such as small furniture or parcel documents.
Planning to deliver large volumes of goods or big and bulky items? Use a 14ft or 24ft lorry instead. With more space available, you can even transport furniture and deliver several huge parcels in one trip. The lorry would be great for logistics or furniture businesses.
Product showcase
Now that we have discussed the different considerations in getting a commercial vehicle, we will now share some of the most suitable vehicles in the market that you can consider purchasing for your company.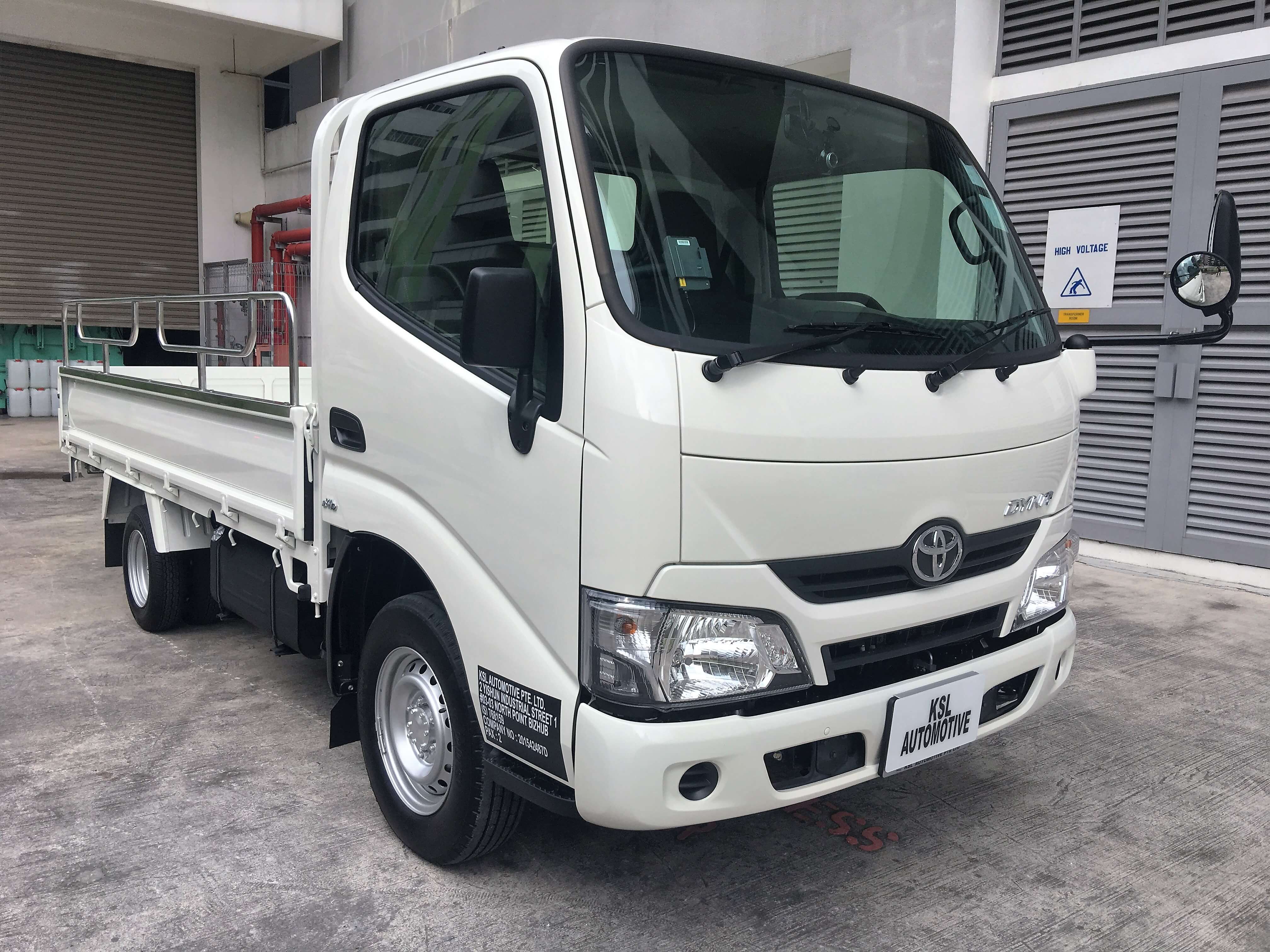 Guaranteed to be the cheapest in the market at only $76,800 including COE, the Toyota Dyna 150 follows the latest Euro 6 emission standard. You get warranty for 140,000 km or five years. You get to service the vehicle 16 times, for no charge at all. It covers both the labor and part costs. On top of that, if you want to sell the vehicle in the future, it has a great trade-in value.
That is not only so, this commercial vehicle is also equipped with a CD player for entertainment as well as a front recording camera, also known as a dashcam, to be used for record evidence in the case of a road incident.
Here are the specifications for Toyota Dyna 150:
ENGINE

Engine Type
4-cylinder in-line 16-valve DOHC
Capacity
2,982 cc
Max Power
142 Bhp @ 3,400rpm
Max Torque
300Nm @ 1,200 – 3,200rpm
Transmission
5-speed Manual
Fuel Consumption
10.3 km/l
Fuel Tank Capacity
60 L

OVERALL DIMENSIONS

Length
4,690mm
Width
1,695mm
Height
1,985mm

CARGO DECK DIMENSION

Length
3,110mm
Width
1,660mm
Height
380mm

WEIGHT

Unladen
1,780kg
Maximum Laden
3,425kg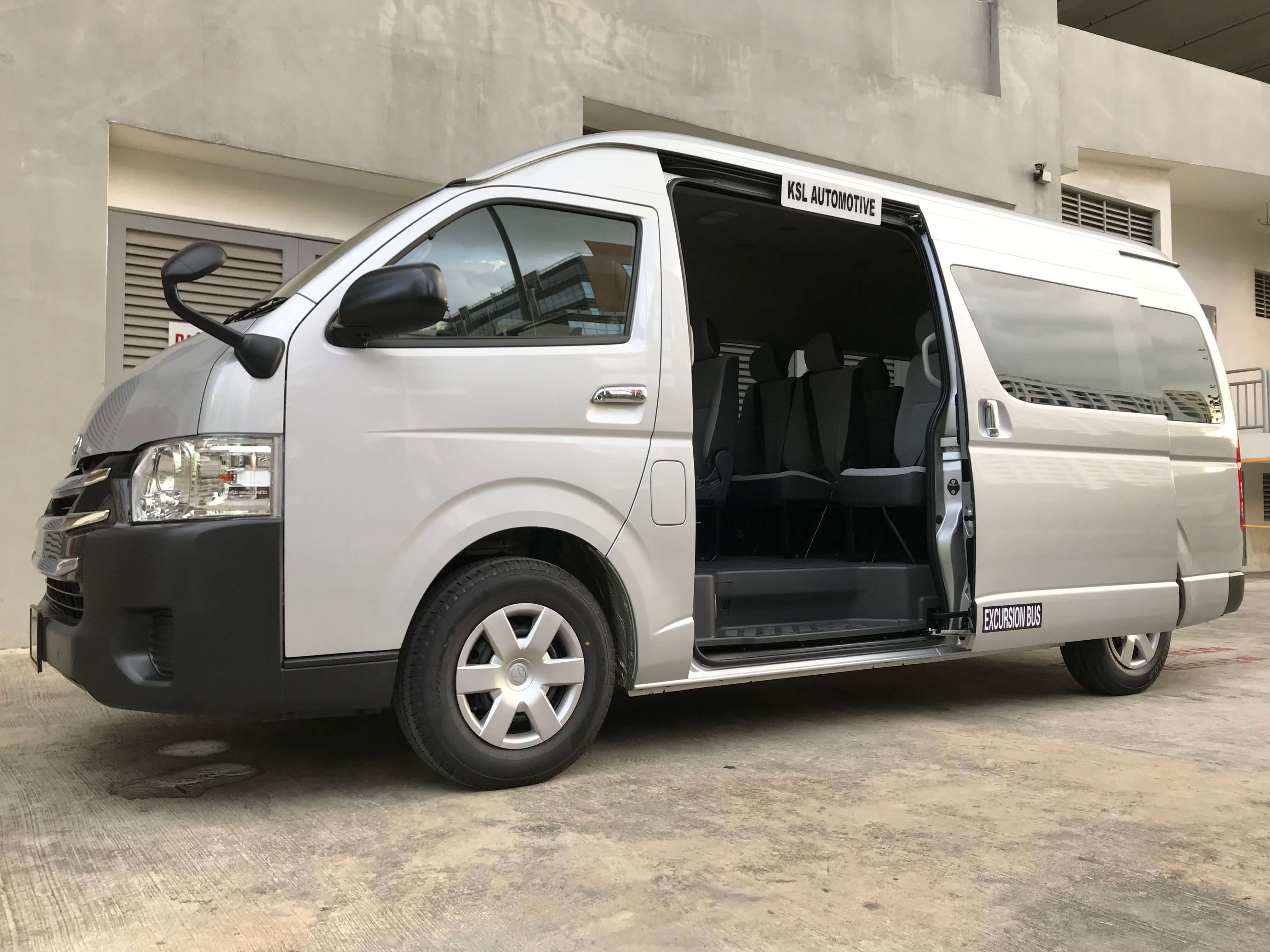 The Toyota Hiace Commuter also meets the requirements of the latest standard of emission (Euro 6). It has enough space to fit 14 employees comfortably. Thus, this makes the Toyota Hiace Commuter suitable for employee transport. The back seats are also retractable to provide more space whenever required, especially when you need to transport goods. The warranty is applicable for 100,000 km of mileage or three years, whichever comes first.
It also comes installed with tons of accessories, such as a DVD camera, a reverse camera as well as a front recording camera, making it incredible value for money. ALso, with SRS (supplemental restraint system) airbags equipped, the vehicle ensures maximum safety for passengers in the event of an incident.
The specifications for the Toyota Hiace Commuter are as follows:
ENGINE

Engine Type
4-cylinder in-line DOHC Turbocharged
Capacity
2,982 cc
Max Power
136 bhp
Max Torque
300 Nm
Top Speed
125 km/h
Fuel Consumption
12.2 km/l
Fuel Tank Capacity
70 L

OVERALL DIMENSIONS

Length
5,380mm
Width
1,880mm
Height
2,285mm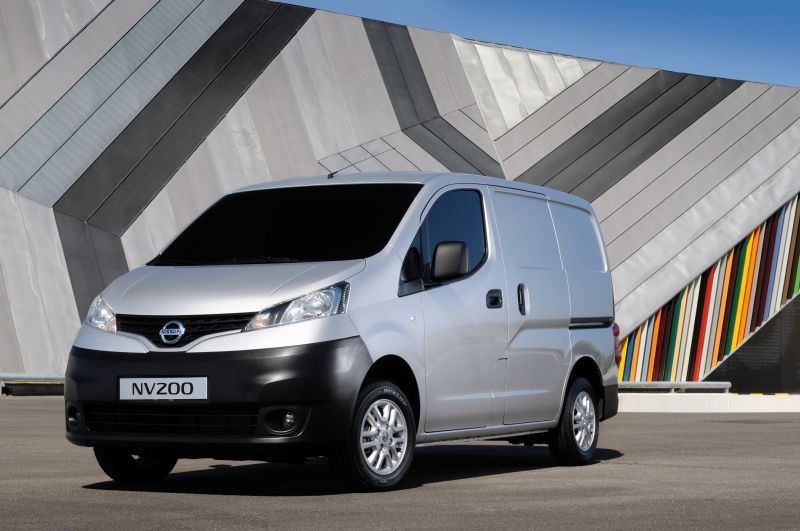 The petrol-fuelled Nissan NV200 1.6A is an absolute steal, due to the price to features ratio of this incredible vehicle. With a great trade-in value, it comes with 140,000 km mileage or 5-year warranty, whichever is comes earlier. You are also entitled to free servicing including parts and labour for up to 3 times.
The Nissan NV200 is spacious with ample space to transport multiple parcels and packages. Priced affordably, this commercial vehicle is perfect for small to medium enterprises to start with.
More information and specifications for the Nissan NV200 are listed below:
ENGINE

Engine Type
4-Cylinder In-Line DOHC
Capacity
1,597 cc
Max Power
108 bhp
Max Torque
152 Nm
Transmission
4-Speed (A)
Fuel Consumption
13.7 km/l
Fuel Tank Capacity
55 L

OVERALL DIMENSIONS

Length
4,400mm
Width
1,695mm
Height
1,855mm
Getting Your Commercial Vehicle
Now that you've learnt more about what to consider when getting a commercial vehicle and the different types of vehicles you can utilize for you business.
Now you must be wondering – where can I browse through a selection of commercial vehicles to pick the most suitable one for my company?
You can check out Eezee's selection of commercial vehicles, ranging from buses, lorries as well as vans.