Have you ever broken the sole of your shoes and desperately tried to fix it back? Or had to piece back the odd pieces when something gets broken? Glue is often a tool we take for granted. In our everyday lives, it is easy to forget the simple things it can do to make our lives a little better.
Likewise, on a commercial and industrial scale, glue is also known as adhesive and forms an essential part of manufacturing and assemblies processes in many industries.
If adhesives had not been invented, we would still have been stuck with traditional methods of welding and bolting. As a result, our machines will become more vulnerable to wear and tear without adhesives and are less safe as well! So let's try to shed some light about adhesives today:
Adhesive vs Sealant
You might probably be wondering – Adhesive or Sealant? Aren't they essentially the same thing?
It is quite interesting to note that these two actually have completely different functions!
Commonly, users prepare a sealant when they want to close gaps of space to create a watertight or airtight environment. This prevents any dust or dirt from entering by creating a barrier. However, an adhesive is different because it binds surfaces together to act as a joint. Typically, you only apply sealants at the last stage of the process to close off any excess space. Sealants are also lower in strength as compared to adhesives.
In our previous article Sealant Guide 2018 – Choosing The Right Sealant. Do check it out if you are looking for a quick guide on sealants. In this article, we will be focusing on the best Loctite adhesive products for your consideration.
Being Overly-Adhesive:
Are you looking for a sturdy high performance adhesive to improve your process? Look no futher! These are the top Loctite products you certainly should add to your shopping cart:
Loctite Prism
If you are looking for an adhesive for general purposes, the Loctite Prism product range is meant for you. We highly recommend Prism if you are intending to get it for automotive components, electrical equipment and a whole other bunch of everyday appliances. Think of it as your super glue.
Loctite 498 Prism (20ML) is a small handy adhesive made to suit your everyday needs. It is consists of a clear transparent liquid suitable for metal, rubbers and plastic. This adhesive has a fixture time of 5 – 20 seconds, allowing you to apply it quickly and efficiently.
Loctite Quick Metal
Need something a little stronger than Prism but still for general purposes? Maybe consider Loctite's Quick Metal retaining compound. It can help you to fix wear on worn machine parts and restores the fit to mating assemblies.
This has a fixture time of 20 minutes, giving you a little more breathing room if you need it. Hence, we recommend using this for parts that require just a little touch up to be back in working condition again – great for a quick fix!
Loctite Epoxy
If you are looking for something for heavy duty, you should get an Epoxy. An Epoxy is highly durable and strong. It mainly consists of two parts – the resin and the hardener.  You can either choose between a one-part or two-part system.
The difference between the one-part system and two-part system is that the one-part system does not require mixing as compared to the two-part systems, in order to formulate the adhesive. However, two part systems are highly stable and durable. In a two-part system, you will require heat for mixing in order to create the adhesive.  Additionally, the ratio between the two components can be changed to produce different epoxy strengths to tailor to your needs.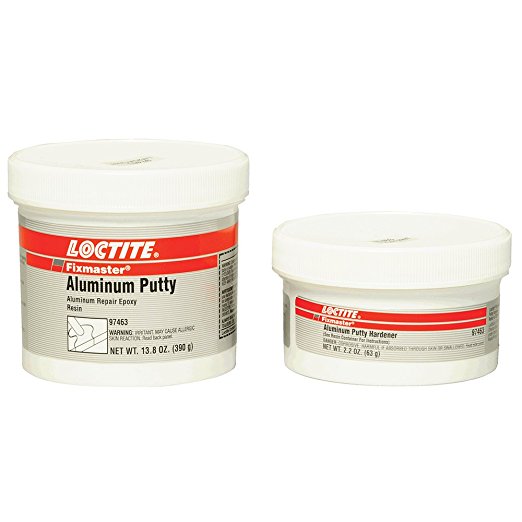 Fortunately, Epoxy adhesives are generally heat, chemical and abrasion-resistant plastics. Hence, this item is the ideal applicant for flooring, pipe coatings and marine applications.
One popular item is Aluminium Putty 1 LB Fixmaster Epoxy 97463. This adhesive is an aluminium colour which is more commonly applied to bond nose cones in aerospace applications. It is also suitable for low-stress and general industrial applications. It is relatively easy to mix and use which we really appreciate about this item. So you should definitely keep an eye out for this product!
Another epoxy product worth noting is Loctite E-30CL Hysol Epoxy Structural Adhesive. It is a clear, low-viscosity industrial grade adhesive. Customers may find this material useful on many surfaces, including glass. Moreover, the E-30CL Hysol Epoxy Structural Adhesive will dry without much shrinking and has a great resistance against impact. When the epoxy cures, customers can use it on a wide range of chemicals. In addition, the adhesive can handle extreme temperatures, which makes it suitable for most industrial uses.
Loctite Threadlockers
Last but not least, we would like to bring your attention to the highlight of Loctite extensive adhesive product range – Threadlockers.
Threadlockers utilises the anaerobic adhesive technology.  A fun fact on anaerobic adhesives – they remain in liquid form until it is in an oxygen-free environment and in the presence of metal ions. This usually occurs after you fasten the bolt and it starts to harden in the absence of air. Generally, anaerobic adhesives are very strong and temperature resistant, making it a great choice for heavy duty applications.
The liquid adhesive inside the threadlocker makes the joint tight without tension or stress because it operates mainly by torque.
Torque is the amount of force acting on the object in order for it to rotate – the higher the threadlocker grade, the higher the torque. Hence, you will need a greater amount of force to rotate the bolt out of the fastener after applying a threadlocker.
Finally, Threadlockers also protect the assemblies from vibration, collision and galling. For example, the Loctite 246 blue threadlocker is designed specially for the locking and sealing of threaded fasteners. If you need to disassemble, you will require standard hand tools to remove the adhesive. As a result, you should think twice before applying the adhesive onto your surfaces. Therefore, we definitely recommend this product for heavy duty applications because it is able to resist the heavy stress and vibration.
Additional Tips for Threadlockers
For easy referencing, we have compiled a simple guide to what each Loctite threadlocker colour represents:
Red – Possesses the highest strength among all colours. Designed for securing fasteners permanently.
Blue – Represents medium strength. This is the most common threadlocker you can find. You will need a chassis or suspender to break the seal.
Green – Medium to high strength for wicking.
Purple – This is lowest strength available for Loctite threadlockers. It is for light-weight use and if you are intending to remove the fastener regularly
Read More: What's the Difference between Colors of Loctite Threadlockers?
Despite its simple and light application, adhesives must be treated with caution like any other industrial equipment. Find out more about how to keep your workplace safe for your employees in our 13-Step Checklist to Ensure Worksite Safety guide.